I know I have a job to do, and I will. I'll get to the sucking and fucking momentarily but I would be neglectful if I didn't talk about the jaw dropping moment that happens moments before Tristan and Sergio get down to business. After being asked what gay actions he hasn't performed Sergio responds and says that he's never bottomed. He's playfully asked to bottom for Tristan and to my dismay he declines.
But there's hope…
"When the day comes when I'm bottoming, I'm either renegotiating or I'm done." I say call Olivia Pope and let's make a fucking deal! As a fan I say it's well worth it! Ok, now that I've made my personal plea let's get to the hot sex.
Tristan and Sergio are asked to push their limits by kissing. The first attempt is pretty awkward, but fun to watch nonetheless. They go in for another at the request of the director, and for about three seconds the awkwardness fades and they enjoy each other's lips. Nice! This gets them in the mood and it's time for "some good ole' dick sucking". Sergio goes first. He gets on his knees and puts his mouth to task. Tristan grabs the back of Sergio's head as he enjoys the feeling of his piece stiffening in the Italian's mouth. Sergio may not like to kiss but it looks like he doesn't mind giving a good blow.
When it's time to trade places, Tristan helps Sergio remove his pants unveiling his perfect package. Tristan's skills with his moth obviously extend beyond kissing. The way he slurps and slobbers on Sergio's cock is breathtaking. Sergio, obviously pleased, bites his bottom lip continuously while Tristan carries on with getting that dick wet. Tristan's mouth and tongue easily glide over the veiny dick, leaving not one bit of it dry. It must taste good. Right as yours truly begins to pitch a tent, Sergio stops and says "Alright, I think that's enough, I think I need to fuck!"
The very next thing we see is Tristan's beautiful and hairy hole exposed and proudly put on display; ready for Sergio's fuck rod. Sergio puts a little lube on it before entering Tristan like a freight train. Tristan looks like he's going to explode, but Sergio just fucks away. Legs spread wide open; Tristan mans up and takes the pounding. Sergio bounces around in Tristan's man box. For a second there, I thought he was going to split the poor boy in half. But before he goes from Tristan to Tristan split in 2, Sergio flips him over and puts him on all fours. Sergio reenters Tristan and once again starts to fuck his ass like pussy. Tristan's face turns beat red as Sergio plows his rectum; making Tristan's ass bounce off his pelvis. After pummeling that booty from behind, Sergio tosses him back on his back. Finally, getting used to the feeling of sausage in his ass, Tristan begins to really enjoy himself. So much so that he unleashes a nice, healthy wad on his abs right before Sergio pulls out and begins to stroke his shaft. Sergio launches a massive load of his own; shooting cum toward Tristan's head and getting some in his hair. From now on I'm sure Tristan will wait to style his hair until after he's been properly fucked.
Hopefully, with negotiations, we can see Sergio's cherry get popped soon.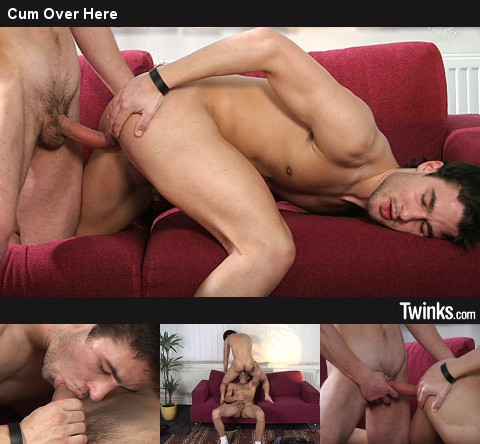 These guys are checking out each other's bodies – making sure their latest work out regimes are working. That ass sure is hard and now they can't keep their hands and mouths off each other. Take a long look as their athletic bodies ripple – especially when tongue is wedged firmly in quivering ass crack.
"Just because you're bipolar, it doesn't make you crazy", Tate explains as he describes his condition to Kage. Tate says that as long as he is medicated he's "ok". Kage begins to undress, unveiling those sexy tats; making me wonder if he thinks he has a cure for Tate. Word has it that he's a rough fuck but having been topped four times, maybe, just maybe, Tate can handle it. Let's get started!
Tate lays back. "Relax, just relax, it's going to be good", Kage promises right before taking Tate's cock into his mouth. Kage successfully gets Tate to relax; leaving only his dick stiff. His eyes begin to water while working Tate's dick, but that doesn't stop him. When asked "how is it?" Tate says that Kage's blowjob is a close second to the one he received from Jason Matthews. Is that a challenge? Uh oh!!! Straight boys and bruised egos equal trouble every time! Kage begins to really get into it and moments later he has Tate admitting that he's taken the #1 spot. Now it's Tate's turn to prove himself as a cocksucker. He easily takes Kage's entire dick in his mouth. Kage watches in wonder with one arm behind his head. "Apparently you're enjoying this a lot" Tate says while tasting precum. Kage's rock hard dick is all the testimony we need. He pulls his dick, wet with saliva, out of Tate's mouth. "You ready to get fucked?" he asks.
Watching Kage strap and lube up his big cock, Tate begs for him to be gentle. I wonder if his plea will work. Tate bends over on the bed and Kage gets right to work. Tate barely has time to arch his back before Kage is pounding away. Kage, after all, has a reputation for a reason. His forceful fucking is hard enough to make Tate's dick jump and hit his abs. Kage seriously has no mercy and he continues to batter Tate's insides. "You keep hitting that spot, I'm going to cum" Tate declares. Kage forces Tate onto his side and gets back to fucking his hole. Tate's expressions tell it all. The slight pain and immense pleasure are plastered all over his face. He once again asks Kage to slow down, fearing that he will cum too soon. Kage obviously doesn't take requests. He just keeps up the pace. He makes it clear that he is the one issuing orders as he drags Kage to the edge of the bed and continues to bang the life out of him. Tate tries to hold it together but Kage isn't having any of that. He grabs Tate's dick and begins to jack and fuck him at the same time. Kage gets redder and redder as Kage unleashes on that ass.
Finally, cum flies from Tate's dick! Kage gets in a few more strokes before he snatches the condom off and paints Tate's chest white with his own man cream. "Dick drunk", "numb", and speechless Tate taps out when offered a round two with Kage.
If I ever meet Kage I think I'll challenge his manhood too
.
Why do we love Sergio Valen? Because he likes to rip the clothes off other straight boys and says shit like "let's get down to dick sucking!" He is joined by Jason Matthews and Jason's juicy ass (yes, his ass deserves to be introduced separately). After a conversation about call center unions, air traffic control, and birds in cockpits (yeah, we go there at BSB), dick sucking is exactly what they get into. Sergio commands Jason to sit down right before he wraps his warm mouth around his cock. "You're making my eyes water!" Sergio says after feeling Jason's dick grow in his mouth. "That's a good sign", Jason retorts as Sergio continues to inhale his cock. Sergio gets Jason's piece nice and wet, bobbing his head up and down, as Jason watches intently.
Soon Sergio is asking "is it my turn yet?" Jason is all too happy to reciprocate as he starts to suck, pulling Sergio's dick into his mouth and going down to the balls. Sergio takes a seat while Jason's mouth continues to twist on Sergio's meat. Jason starts to deep throat causing Sergio to exclaim, "He doesn't fuck around!" This blogger agrees. With Jason's forehead nearly touching Sergio's abs in the process of giving head, Sergio decides that he can't wait any longer. They move over to the bed and lube up. Jason jumps on and starts to ride Sergio's dick like a boss! It's hard to watch without being jealous of one or both of them. Sergio's package is stretching Jason's hole, but Jason must not mind because he leans down and starts to passionately kiss Sergio. Yum! Jason hops off of Sergio's dick and gets on all fours; offering his ass for more pounding. Sergio obliges. Jason's man globes bounce off of Sergio's torso as he bangs him.
Sergio flips Jason onto his back, folds his legs up, and resumes to fuck the "oh's" and "ah's" out of Jason until he is begging to be fucked harder. I'd be willing to bet that Jason's not thinking about call center unions now. Even though he doesn't say please, Sergio begins to ram his cock in that pretty hole hard. Jason's hole adjusts as Sergio slides his piece in and out with no objection. Cum squirts from Jason's dick; landing all over his stomach and chest. Sergio follows suit by adding his own steamy load to the mix. He then smears their DNA mix with his hand and is offered the opportunity to lick it up. He declines (damn!) but it looks good enough to eat if you ask me.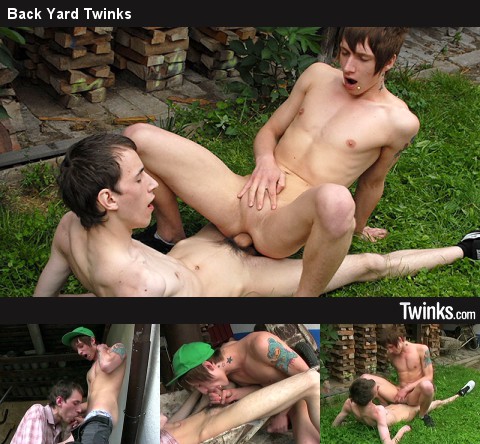 There's a couple of dirty boys playing in the yard. All they have on their minds is fucking … well that and getting cocks rammed down their throats. They don't give a fuck if the neighbours see – they just want get their rocks off! They'll even fuck in the wheelbarrow!
Enter Dakota and Damien. Having shown off his body and thick cock in his solo performance, Dakota is back but this time he has a playmate, Damien. This won't be the first blowjob that Dakota has had from a guy. In regards to a past oral encounter with a man, Dakota states that "it's normal, it's alright". One can't help but think that Damien took this as a challenge because when given the green light he dives right in and starts bobbing on Dakota's cock like a pro. He may never go broke again if he keeps sucking dick like that. Not one to miss a moment of his mouth's hard work, Damien keeps his eyes wide open as he slobbers up and down Dakota's shaft. "You like that?" He asks Dakota. Dakota's moans out "yeah" as his eyes continue to roll into the back of his head. He begins to relax even more as Damien continues to deliver mind blowing head. Damien moves down further between Dakota's toned legs and starts to service his balls, gently sucking on them. That's what you call full service! After having Dakota force his dick towards the back of his throat, Damien admits that he can "barely breathe"! But he can take a deep breath as his impressive oral skills have brought Dakota to his climax. Dakota holds tightly onto his seat as cum explodes from the head of his dick.
Being the newbie that he is, Dakota thinks that he is done. But this straight boy needs to learn the number 1 rule about head and that's suck, cum, give! He admits that he isn't very good at it, but practice makes perfect. He begins to suck Damien's cock and while the taste doesn't agree with him at first he begins to get into the rhythm; forcing Damien's dick to grow into the back of his throat. Damien lies back on the bed and Dakota continues to blow him into ecstasy. Damien's dick slides in and out of Dakotas' mouth with ease. Dakota seems to get use to the taste as he slurps Damien's cock repeatedly and even slaps it against his tongue. The married newbie even attempts to deep throat! How quickly cocksuckers progress these days! Damien, lost in pleasure, forgets that this is Dakota's first time sucking on man sausage and begins to fuck his mouth.
After having his mouth worked over good, Dakota begins to expertly jack Damien off. Damien cums hard within moments of having his junk in hands of Dakota. With both boys relieved they decide to go get some food. And who can blame them; straight cock is always a good appetizer.
As any fan of BSB knows, "a boy's gotta do what a boy's gotta do." And lucky for us Spencer, the Red Rocket, has found himself in the position of being "pretty broke" and that will put him in the position of bottoming for Vinnie Steel.
Vinnie helps get Spencer in the mood with a blowjob. He starts deep on Spencer's rocket, planting his face in Spencer's blazing red crotch. Spencer's face indicates that the pleasure of Vinnie's warm mouth may be almost too much to handle. Spencer sits back and enjoys Vinnie's mouth until it's his turn to taste Vinnie's dick. Vinnie gently forces Spencer's mouth on his shaft while handling his playmate's cock. Spencer needs very little coaxing as he easily gives a blow job that only a hungry boy could. He seemed to be enjoying himself until Vinnie commands "let me see that ass".
Needing the money, Spencer has no choice but to get on his knees and watch Vinnie lube up. After prepping, Spencer arches his back and slides back onto Vinnie's dick. "Ohhh, my God!" he exclaims as Vinnie's hard shaft breaks through his tight, barely used hole. Spencer begins to open up, pushing his ass back into Vinnie's pelvis. It doesn't take long before both of them are breathing heavily with pleasure. Things escalate when Vinnie lies on his back and Spencer sits on his rod like a king takes to his throne. By the way Spencer rides cock one would be surprised to learn that it's only his second time doing so. He bounces up and down on Vinnie's dick. How Vinnie's keeps from busting is anyone's guess.
Soon it's Spencer's turn to lay on his back while Vinnie put in his work. Spreading Spencer's legs as far as they'll go, Vinnie begins to rhythmically pump his meat in and out of Spencer's ass. From this angle it's easy to see Spencer's ass gripping Vinnie's eager cock. Unable to hold it any longer, Spencer fires a nice load all over his rock hard abs. Vinnie soon follows, shooting a warm, creamy load on Spencer's chest and arm. After relieving themselves, both Spencer and Vinnie burst out into laughter. Vinnie ends the scene with a quote that is sure to become my new motto, "it's only gay if you make it gay, bitch."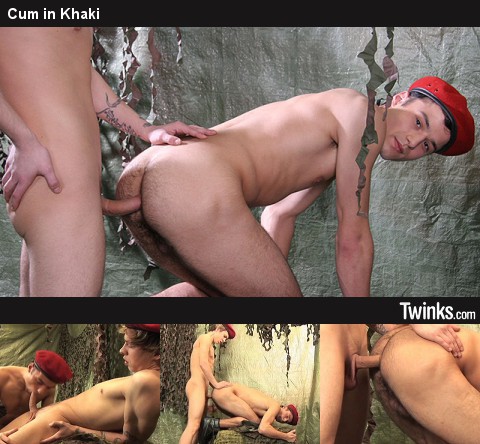 These two young recruits are not interested in war – they are more interested in making love. Their twink bodies quickly slip out of their uniforms so that they can devour each other's stiff cocks. Then a hard rod begins to pound the lightly fuzzed ass … cumming all over the tight butt.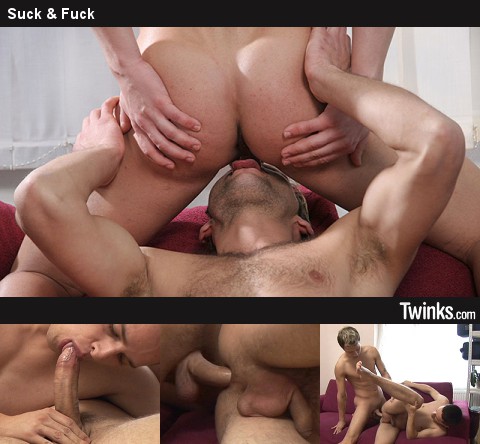 This video delivers just what it says on the tin! Two gorgeous twinks are on the couch sucking each other off – they trade blow jobs big fat dicks getting covered in spit. Now that those cocks are hard and ready the fucking comes into play!
Have we got a super hot twink for you today! This big dicked hottie is worshipped (as one with a cock that big should be!) by his mate who struggles to down that monster. It truly is a sight to behold as that bare big one slides in and out of twink ass!